I actually finished this book a little while ago but things have been super busy around here! I wanted to review it before I finish my next one which I'm currently reading though! (The Husbands Secret). I'm going to attempt to review without giving any spoilers away as I think that ruins the enjoyment of the book.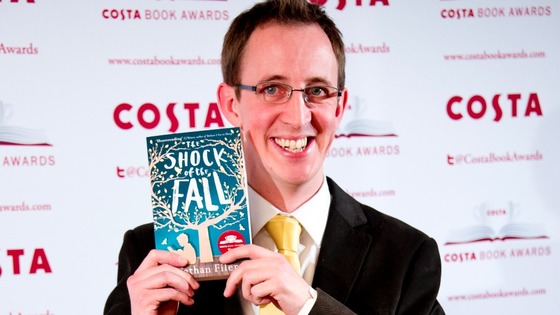 The Shock of the Fall is by Nathan Filer and it was Costa Coffee's book of the year for 2013, it's also Nathan's first novel. Interestingly he has a background as a mental health worker and uses this to his advantage throughout the book very successfully. I suppose I should start of by saying it's not a long novel, I think I finished it from cover to end in about two days but I did read for 3-4 hours a day.
'I'll tell you what happened because it will be a good way to introduce my brother. His name's Simon. I think you're going to like him. I really do. But in a couple of pages he'll be dead. And he was never the same after that.'
The style of the book jumps around so if you don't like that kind of story then this book is not the one for you, but if you can handle a disjointed timeline I would totally recommend reading it. It's written really well considering it's Nathan's first novel and I found it to be an engaging read which you could not put down. The book is also written almost like a diary, so again if you prefer a story with a high level of detail which is easier to navigate then this is not the book for you.
So here is the hard part, trying to tell you a snippet of the story without ruining it. The novel is all about the journey of a boy who has a brother named Simon, their story, their lives and sadly the death event. I'm sure you could possibly work most of that out from the synopsis quoted above but hopefully that gives you a little more information to decide whether you want to read it or not.
I purchased the book online from Amazon rather than in a store although I did as I usually do check the book out in the store beforehand. The Shock of the Fall isn't going to break the bank, so even if the turns out you don't enjoy it you can be happy in the knowledge that you did not spend too much money on it anyway. Amazon are selling it right now for £3.85 with free delivery in the UK a least.
When you consider the price, the good reviews and the fact it's a short read so it isn't going to take took much of your time then I would highly recommend you buy this book. It's an easy read which you can fling in your bag and take with you to your next coffee shop visit, besides if you don't enjoy it then someone you know will!